On the last day of Paris Fashion Week this season, French luxury brand Chanel held its Spring/Summer 2023 Ready-to-Wear show, the 17th ready-to-wear collection under the artistic directorship of designer Virginie Viard. If Virgine was a little shy when she officially took over the mantle of Karl Lagerfeld in February 2019, she was now at ease during the curtain call.
In fiscal 2021, Chanel's sales increased 49.6% to $15.6 billion compared to 2020, up 22.9% compared to 2019 before the epidemic; operating profit reached $5.461 billion, up 57.5% compared to the pre-epidemic period. Among them, the ready-to-wear and leather goods business performed particularly well. In fact, Chanel officials made it clear when they released their financial results in May this year: this performance was due to the successful designs of Virginie Viard.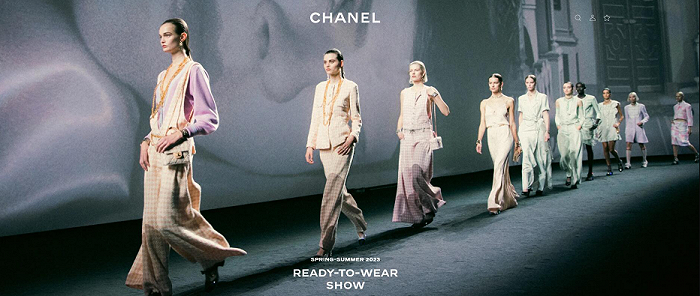 Outside of its fashion business, Chanel's leather goods business is also strengthening its position in the market. Since 2019, the brand has raised the prices of its classic handbags four times, and in March this year, Chanel raised the prices of some of its products once again in Europe, Korea and Japan, meaning that some iconic handbags now cost twice as much as they did before the 2019 epidemic. Luxurynsight, a Paris-based industry data analysis firm, notes that "Chanel may be banking on using this scarcity to make it a more coveted brand."
Over the past year or so, how has Chanel worked to become a "more desired luxury brand" by moving forward in its fashion, beauty and jewelry and watch business lines in tandem?
Female designer Virginie Viard "takes the reins" with more feminine colors
Promoting beauty omnichannel construction and strengthening the use of iconic elements
Deepen the "creativity" and "DNA" of the jewelry and watch business
Strengthened store experience to maintain top customer base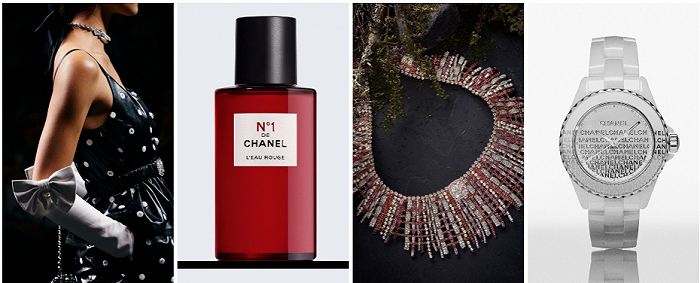 Female designer Virginie Viard "takes the reins" and becomes more feminine
In February 2019, Karl Lagerfeld, who had worked for Chanel for 36 years, passed away, leaving his constant collaborators: Virginie Viard, creative studio director, and Eric Pfrunder, image director, as Chanel's joint artistic directors. Artistic Director, in charge of fashion design (including Haute Couture, ready-to-wear and accessories collections) and brand identity (including advertising, visuals and photography) respectively.
In May 2019, Virginie Viard presented her first solo show, the Chanel Cruise 2020 collection, which she led. After the show was released, it was once criticized by foreign media as nothing more than a "continuation of the tradition of the Old Master's runway show", but Bruno Pavlovsky, Chanel's fashion president, gave high recognition to Virginie.
In an interview with The Guardian before the show, Bruno Pavlovsky said: "Virginie is doing a great job and she will be here for a long time. When you've been second fiddle to Karl for 30 years or more, you're naturally invisible to the outside world. But Virginie, like Karl, has an eye for new trends, she understands the vibe of the times, and she knows Chanel well enough."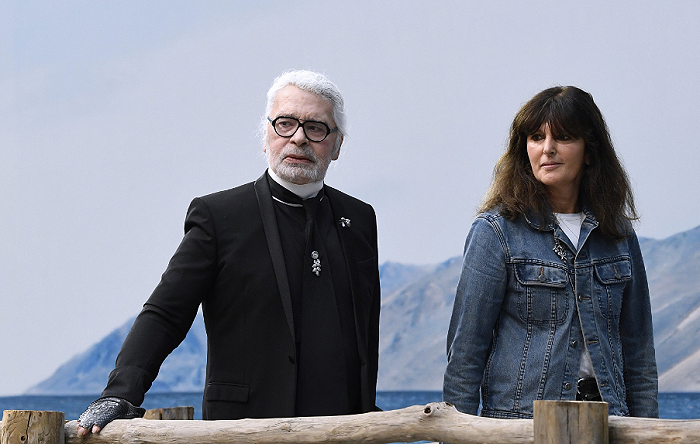 In May 2021, Chanel officially said that image director Eric Pfrunder officially retired. The short-lived era of the duo came to an end, and Virginie Viard became Chanel's sole artistic director, taking full charge of product design and brand image. She is also the first female artistic director in 50 years since the death of the brand's founder. The company's first art director in 50 years since the founder's death.
Chanel's 2021 earnings report noted that the brand's ready-to-wear and leather goods businesses performed "particularly well" and explicitly mentioned that "this was due to the success of Virginie Viard's collections". In her first year in charge, Virginie has delivered a performance that will convince everyone.
Bruno Pavlovsky also pointed out in an interview with overseas media in May this year that Virginie has brought a more feminine and free style to Chanel's ready-to-wear collection. freedom, which is one of the main reasons why the brand will be able to recover in 2021.
"Keeping the clothes light, feminine and designed to be worn. That's where I can't see myself doing otherwise." Virginie herself has said. For her latest Spring/Summer 2023 Ready-to-Wear collection, Virginie used Chanel's signature tweed fabric in abundance, while incorporating feminine elements such as pearls, sequins, bows and feathers, and in this season's show, Virginie chose models of all sizes to convey the beauty of diverse women.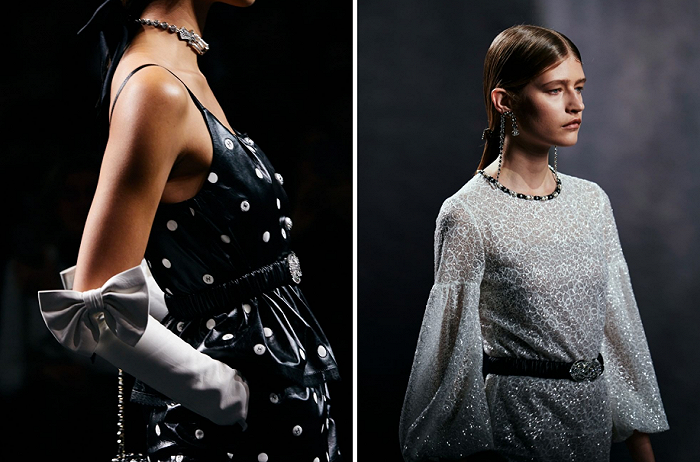 "She is good at revisiting the brand's classic pieces, always giving them a new lease of life. The designs are her own at first glance, not simply reproductions." So says Sofia Coppola, the director who created the campaign film for Chanel's Fall/Winter 2022 collection.
While focusing on creating a Chanel with a personal touch, Virginie is also charting a new course for the brand's visual output.
After the departure of image director Eric Pfrunder, Virginie began to explore more possibilities from the outside. In addition to the aforementioned Sofia Coppola, the Dutch photographer duo Inez & Vinoodh, German photographer Juergen Teller, French fashion photographer Karim Sadli, French visual artist Xavier Veilhan and many other independent fashion photographers, artists, directors and producers have been chosen to work on the new Chanel campaign. Chanel's new collection campaign was shot.

I don't feel like an artist at all," Virginie said of herself in an interview with The New York Times earlier this year, "Coco Chanel was the real inventor, she got rid of the corset for women. But everything is there now, so I'm flexible and I try to adapt to many things …… It doesn't matter if you are rich or have nothing, it's essentially the same, it's a way of being."
Chanel's mature luxury supply chain also provides a solid foundation for the design team to exercise their creative talents. 2021 end, Chanel in Paris took two years to build a new 25,500 square meters workshop house Le19M officially inaugurated, the interior gathered the brand's 11 workshops resident, employing about 600 artisans.
Promoting beauty omnichannel and strengthening the use of iconic elements
The earnings report noted that in 2021, Chanel's fragrance and beauty businesses showed strong resilience, with market share gains in several key countries and increased demand from local customer segments online and offline. The brand highlighted the success of its men's fragrance Bleu de Chanel and women's fragrance Coco Mademoiselle, which drove fragrance sales growth, and the performance of its skincare category, which helped grow the beauty business.
To celebrate the 100th anniversary of Chanel N°5 perfume in 2021, Chanel is launching a special CHANEL Factory 5 collection of 16 limited-edition products, with limited-time openings in several key cities around the world (London, Seoul, Chengdu, Hong Kong, Singapore, Taipei and Paris). The Chanel Factory 5 collection has been opened in several key cities around the world (London, Seoul, Chengdu, Hong Kong, Singapore, Taipei and Paris).
In addition, Chanel invested $758 million in channel building last year, opening 50 additional stand-alone boutiques for its fragrance and beauty business, particularly in Asia, "to provide a more personalized consumer experience. "The direction of the beauty business is direct to the consumer," Philippe Blondiaux, the brand's chief financial officer, said in an interview with Reuters.
It is clear that Chanel is accelerating its transition to direct-to-consumer by opening fragrance and beauty stand-alone boutiques, with the ultimate goal of "having an omnichannel business," Philippe Blondiaux said in an interview with English-language media BOF in May this year. "This is to ensure that we know exactly what the customer is looking for at every touchpoint of the consumer journey. We want each channel to have its own identity and objectives and to be able to integrate into a global omnichannel strategy."
Deepening the "creativity" and "DNA" to develop jewelry and watch business
In May this year, Chanel opened its renovated jewelry and watch boutique at 18 Place Vendôme in Paris (below). Some insiders estimate that the boutique will cost about 30 million euros, which is one of the most expensive luxury brand boutiques ever built if calculated on a cost per square meter basis.
Behind the heavy investment to build a high-spec store, highlighting the determination of Chanel to continue to focus on jewelry and watch business.
According to the financial report, Chanel's watch and fine jewelry business will achieve double-digit growth in all markets in 2021. Previously, some industry insiders have combined the number and scale of Chanel jewelry and watch boutiques, the sales of jewelry and watches in fashion boutiques, and the global wholesale business to speculate that Chanel's current jewelry and watch business may have an annual revenue of around $1.5 billion. (If we take the annual sales of $15.6 billion in fiscal year 2021 as a reference, the jewelry and watch business accounts for about 10% of the total sales)
Reinforcing the store experience and maintaining the top customer base
"Our main concern is to protect our customers, especially our repeat customers." Philippe Blondiaux, Chanel's Chief Financial Officer, said in a recent interview with English-language media BOF. In June this year, Chanel said it plans to strengthen its exclusive strategy by opening exclusive stand-alone boutiques dedicated to serving its top clients, a plan that will be launched in early 2023, with Asia as the first pilot region.
Luxury brands have long invested a lot of effort in maintaining their VIP clientele, and they continue to improve the experience of these top customers by holding offline private exhibitions, creating VIP spaces in stores, and upgrading VIP services. Elsie Zhang, director of customer development at Digital Luxury Group, a Swiss luxury research and consulting firm, noted, "VIP customers are more loyal and may not contribute a high percentage of the brand's sales, but their high repurchase rate represents a higher input-output ratio.