On October 26, 2022, German sports brand giant Adidas announced that the brand will end its partnership with American rapper and fashion designer Kanye West.
In a statement, Adidas said, "Ye's recent comments and actions are unacceptable, hateful and dangerous. Adidas will cease production of Yeezy-branded products and cease all payments to Ye and his company."
Kanye West, formerly known as Kanye West (now known by his stage name Ye), born in June 1977 in Atlanta, GA, is a famous American male rapper and music producer.
In addition, the Yeezy series designed by Kanye West is one of the most popular shoes in the tide shoe market in recent years.
It is no surprise that Adidas and Kanye have terminated their cooperation this time.
In mid-September, American fashion retail brand Gap and Kanye terminated their partnership.
In an internal notice sent to employees, Mark Breitbard, president and CEO of the brand, said, "While both parties share a vision of bringing high-quality, on-trend, functional designs to all through Yeezy Gap's unique all-encompassing experience, they disagree on how to work together to achieve that vision. "
And after that, Kanye didn't seem to have any intention of reining it in, but instead also made several aggressive comments involving racism on social media platforms. His account was subsequently blocked by Twitter, Instgram and several other platforms.
Kanye's behavior has also caused dissatisfaction from his partner brands and agencies.
On October 23, Kering, the parent company of French luxury brand Balenciaga, announced that it was terminating its partnership with Kanye due to the latter's controversial comments related to racial slurs.
Kering Group said, "Balenciaga Paris and Kanye West no longer have any relationship and there will be no future plans to collaborate."
Not long ago, CAA, the agency Kanye signed with, also announced that it was dissolving its relationship with Kanye.
In fact, Kanye and Adidas had a long history of conflict before making the controversial remarks about racial discrimination.
In 2015, Kanye collaborated with Adidas to launch the Yeezy Boost series, which is also known as "coconut shoes" in Chinese shoe circles.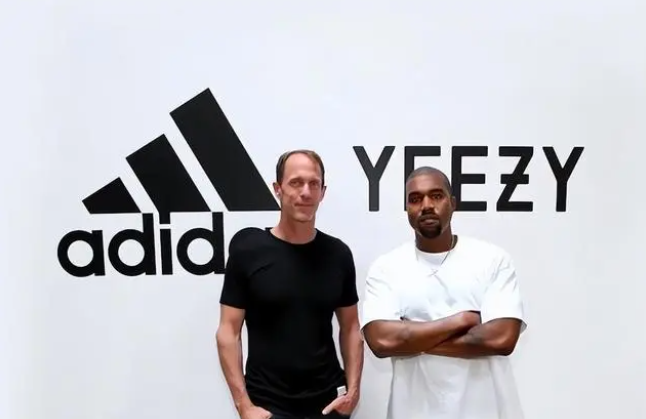 In 2019, Yeezy's sales have exceeded $1 billion. In that year's Forbes Celebrity Top 100 list, Kanye ranked 3rd with a proud income of $150 million.
However, Kanye, who was earning a lot, was not satisfied and wanted more from the hands of Adidas.
In 2020, Kanye asked to be on the board of Adidas or else the cooperation would be terminated, but Adidas did not officially respond to this request.
In September this year, Kanye said on his personal social media platform that Adidas wanted to spend $1 billion to buy Yeezy, but he was not willing.
Kanye wrote in the dynamic: "I wanted so badly to create something that would change the world and leave it to my kids. They (Adidas) want to buy all my shares for $1 billion, but I have $500 million in royalties for next year alone."
Earlier this month, Adidas said it was evaluating the partnership with Kanye, "After several attempts to resolve the current issues, we have decided to evaluate the partnership. During the evaluation period we will continue to manage the current partnership together. The partnership with Ye has been one of the most successful in the Group's history. But we also understand that all successful partnerships are based on mutual respect and shared values."
According to the original agreement, Adidas and Kanye's contract will not expire until 2026. Yeezy's sales in the most recent fiscal year were $1.7 billion.