Coach 2023 fall and winter collection, these garments use some smooth leather, textured knit, classic denim and other such fabric materials, clothing fabrics will have a more distinctive texture, in the texture shows more fashionable temperament;
The garments are made of some suits, dresses and other such garments, which show more elegance and trendiness in these styles.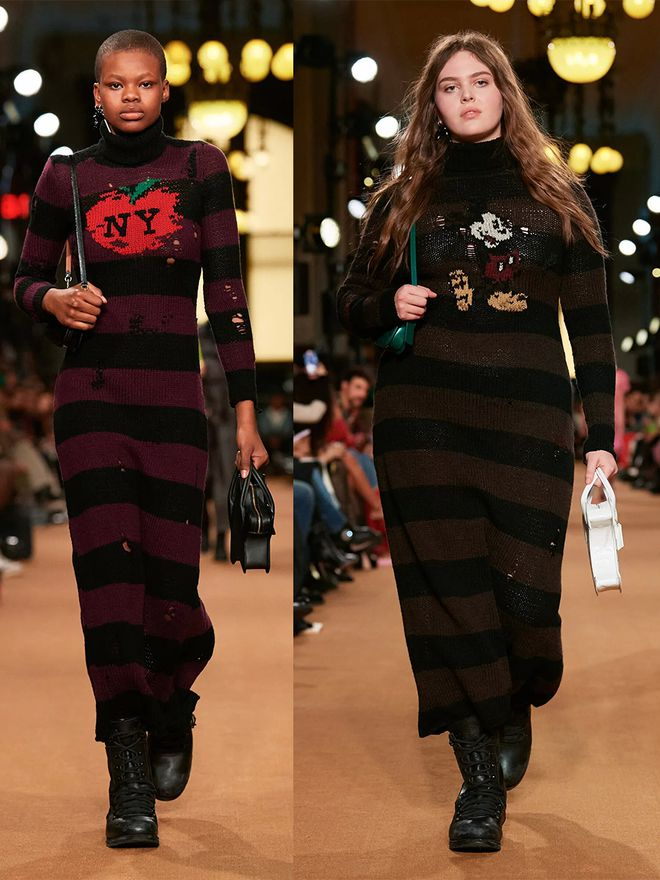 Dark Stripes
Dark colors as the main color of the clothing, in the dark black and dark purple, brown and other colors of the collocation, the impact of the impact of the color also creates a striped simple classic fashion, high collar style dress in the knitted fabric to show more material texture.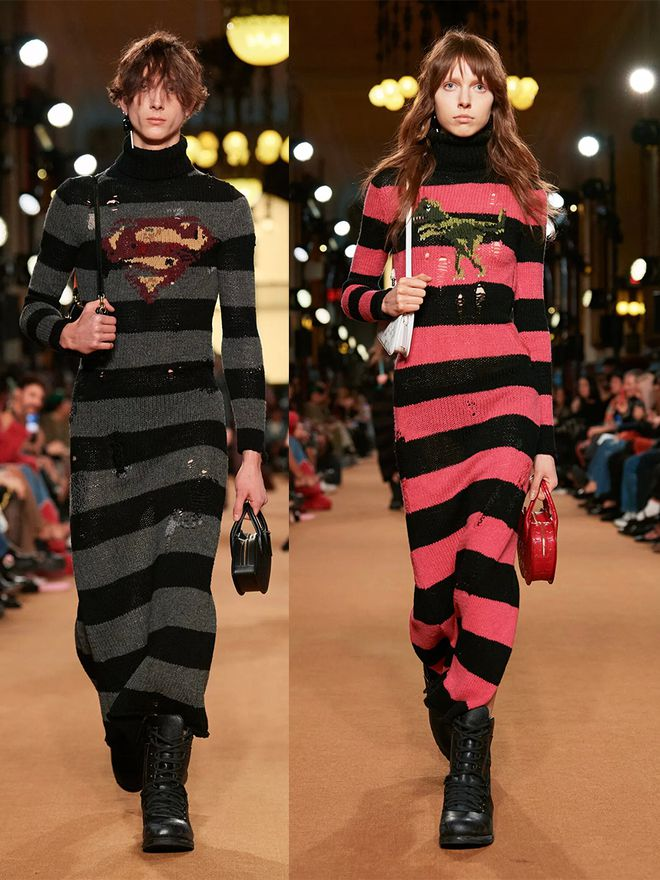 Knit Striped Turtleneck Dress
The contrast of various colors such as black and gray, black and pink, the simple striped pattern on the high neck knit dress will be contrasted with some other pattern patterns, and the difference between various patterns will add the impact of mix and match.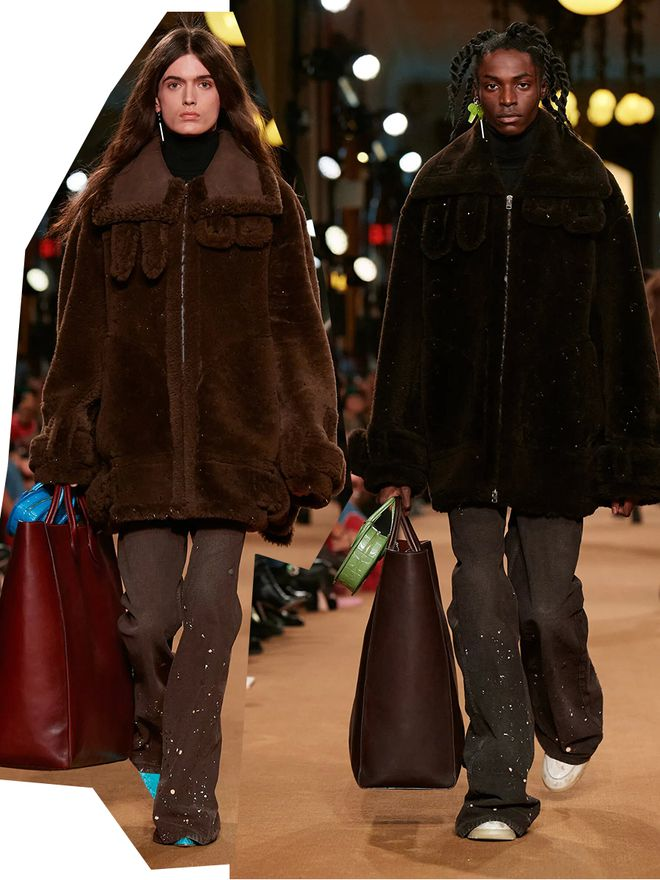 Brown Fur Coat
Darker colors in these brown colors, isn't this the recent hit Mirad style?
The brown outfits also incorporate some plush fur fabrics, and there is some extra thick and warm warmth in the plush fur material as well.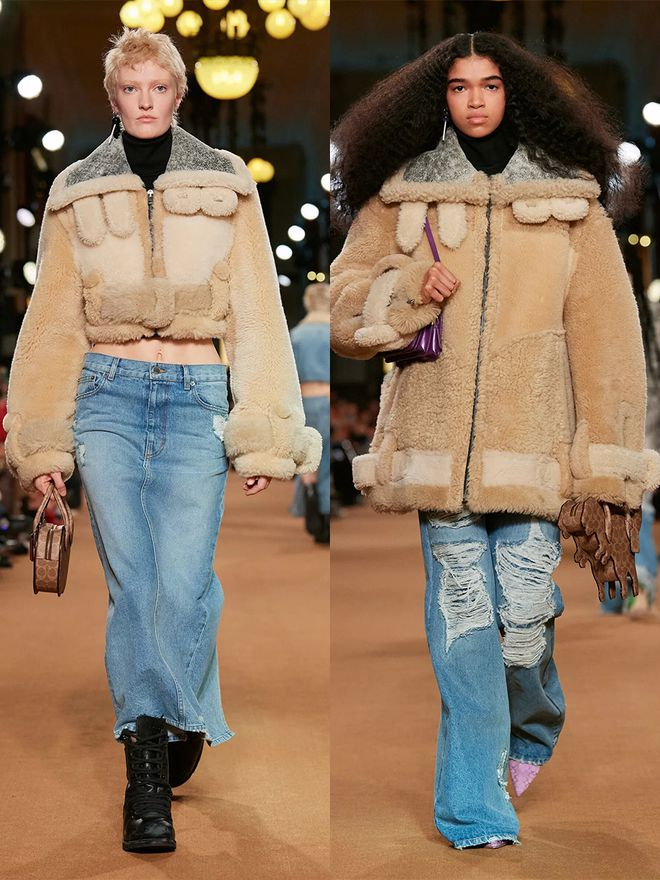 Khaki brown top + jeans outfit
Light brown khaki color makes the temperament low-key elegant, but also plush fur material for the top adds more thick sense of warmth, collocation, and these jeans, denim half-body skirt and other styles between the formation of color and fabric and other contrasts, but also more points of leisure and youthful temperament.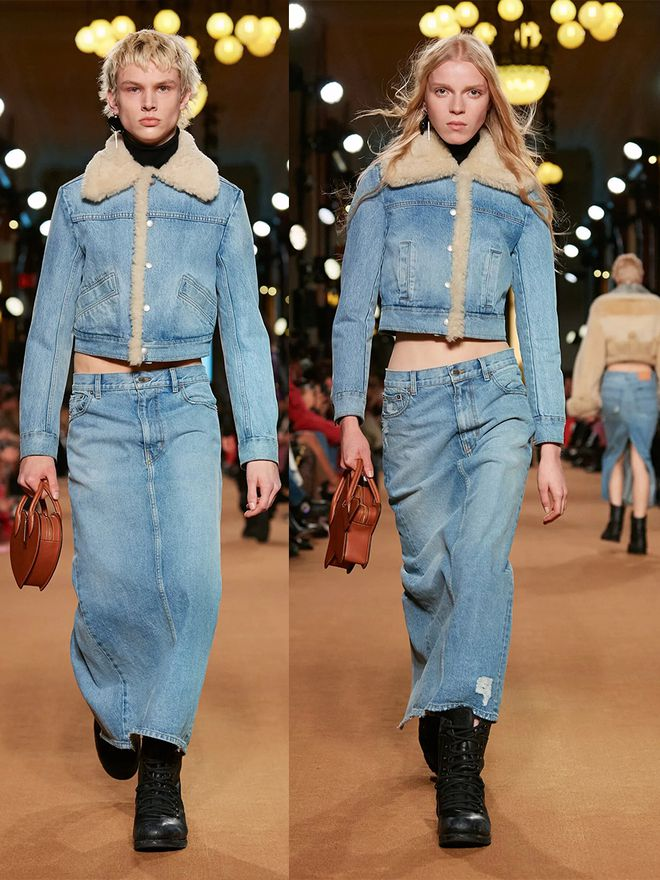 Denim Suit Skirt and Waistless Wear
Denim suit skirt wear in the clothing in the short section of the denim top, pull up the waistline, but also show some small waist fashion charm, more plush material, adding warm material contrast.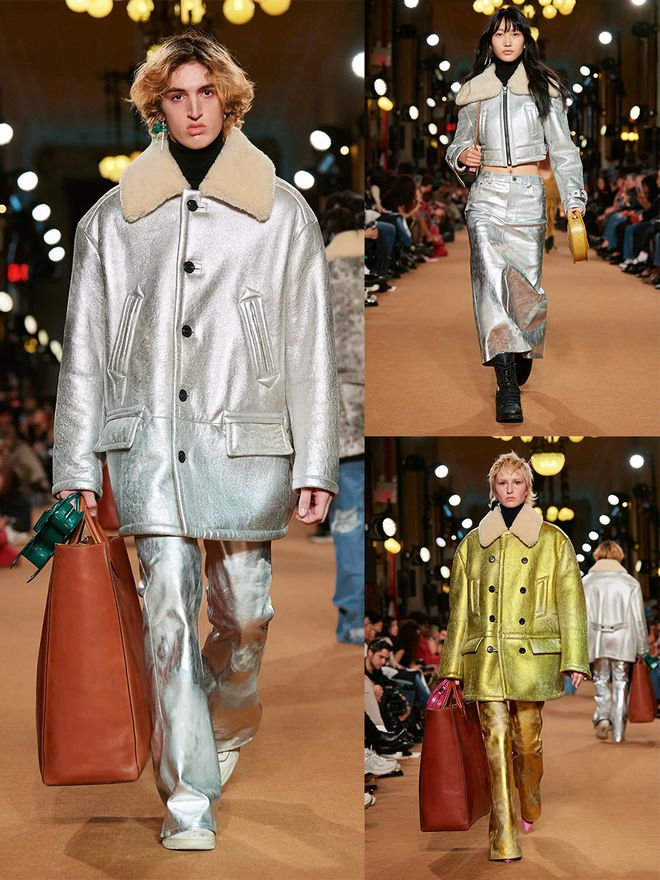 Glossy Leather Set
Smooth fabrics in colors such as gold and silver, these glossy textures also have a lot more of a luxurious premium feel to them, these smooth fabrics have a little more of the simple fashion of suits in their wear, and these suits have a combination of tops and loose silhouettes on the garments for a little more of the comfort of a boxy look.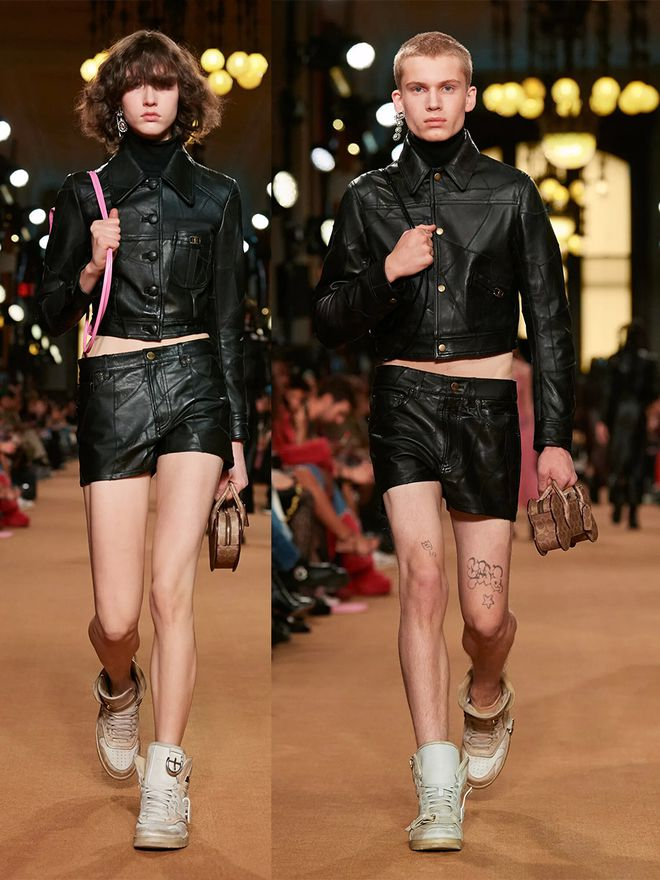 Black Leather Short Top + Shorts Set
The combination of black color and smooth fabric with glossy texture gives the set an extra sense of style, and these sets also add a chic vibe to the set when worn with short tops and shorts.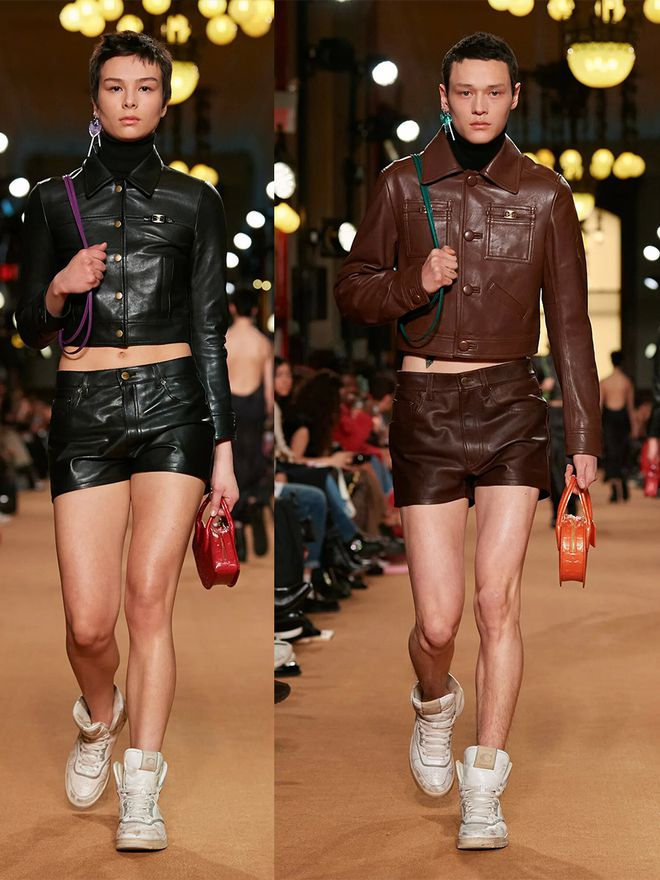 Leather Shorts Set Style Wear
In addition to black leather, there is also brown leather in the set style of shorts, and the color of brown is softer compared to black.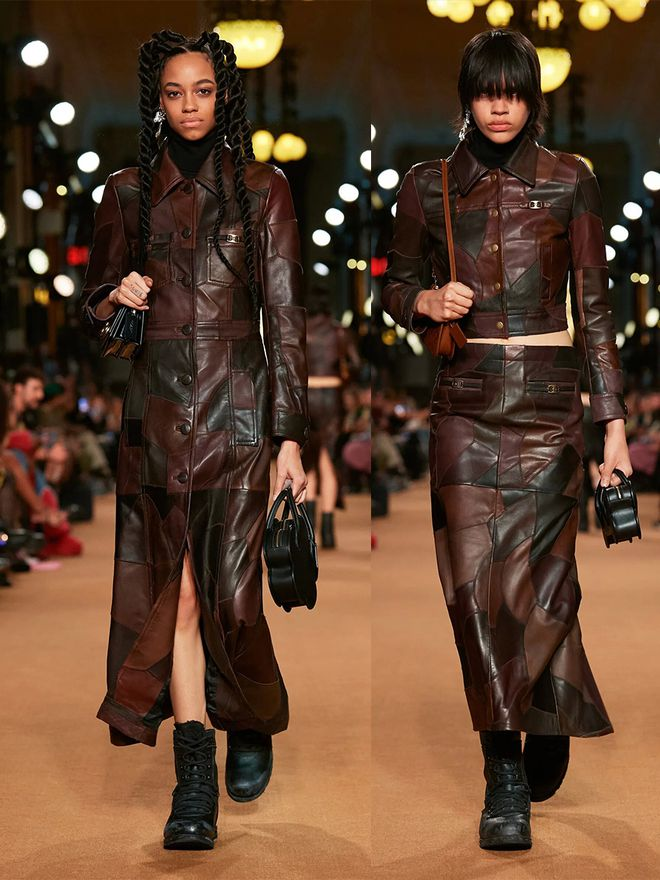 Spliced Leather Clothing
In leather clothing wear, smooth leather material to different colors between the splicing collocation, bring more visual impact and contrast, but also create some pattern pattern fashion.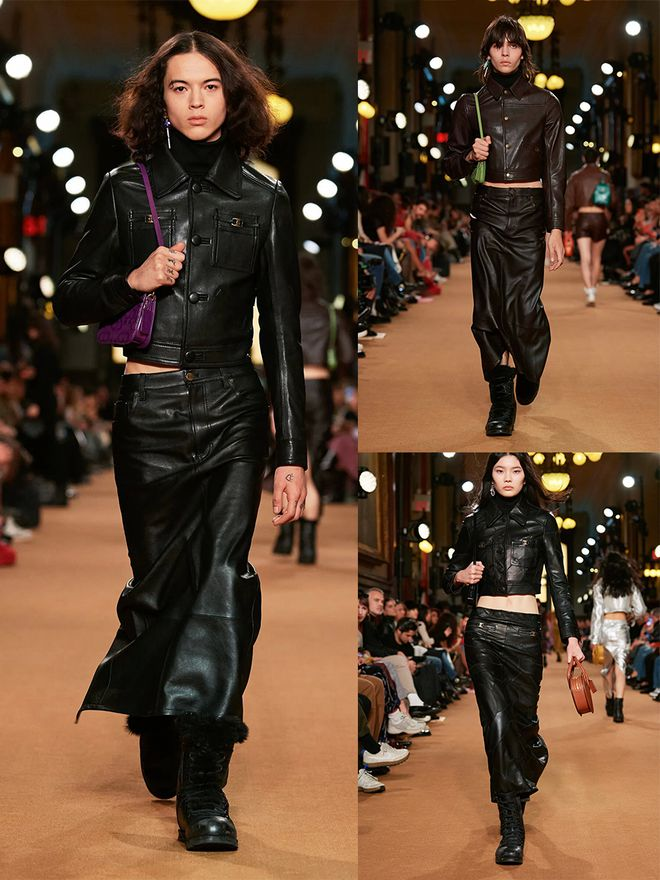 Black Leather Set
Black color outfits on smooth leather fabrics, these smooth outfits have a little more elegance of a skirt on them and also short tops to pull up the waistline and show a little more fashion of a small waist.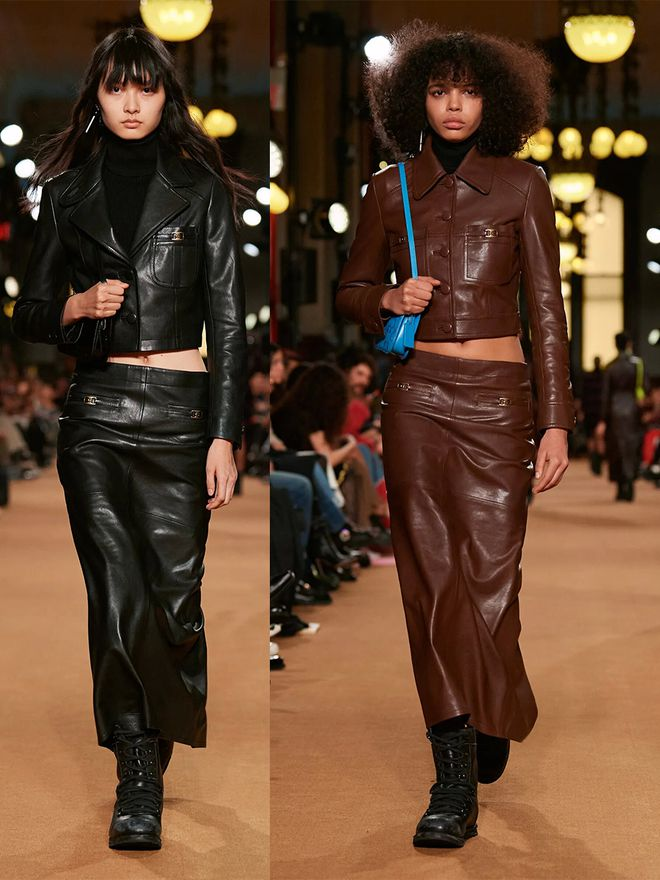 Short top + straight skirt set
Combining with short tops and straight skirts, these combinations have more simple elegance of the set in the same colors and fabrics.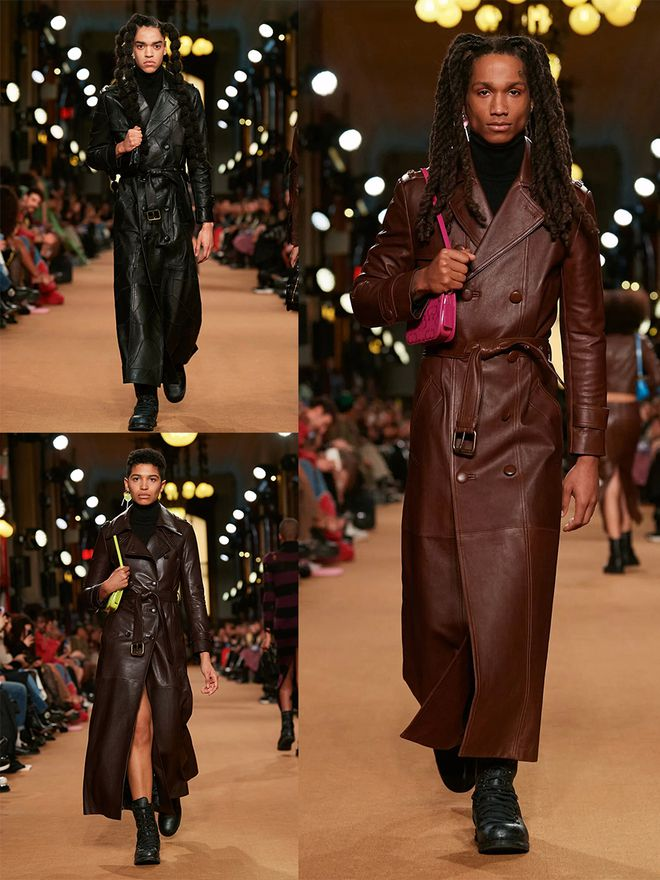 Leather Coat
Coat jacket clothing in some smooth leather material, showing more elegant simplicity temperament, and some belt collocation, slimming waist also more fashion sense.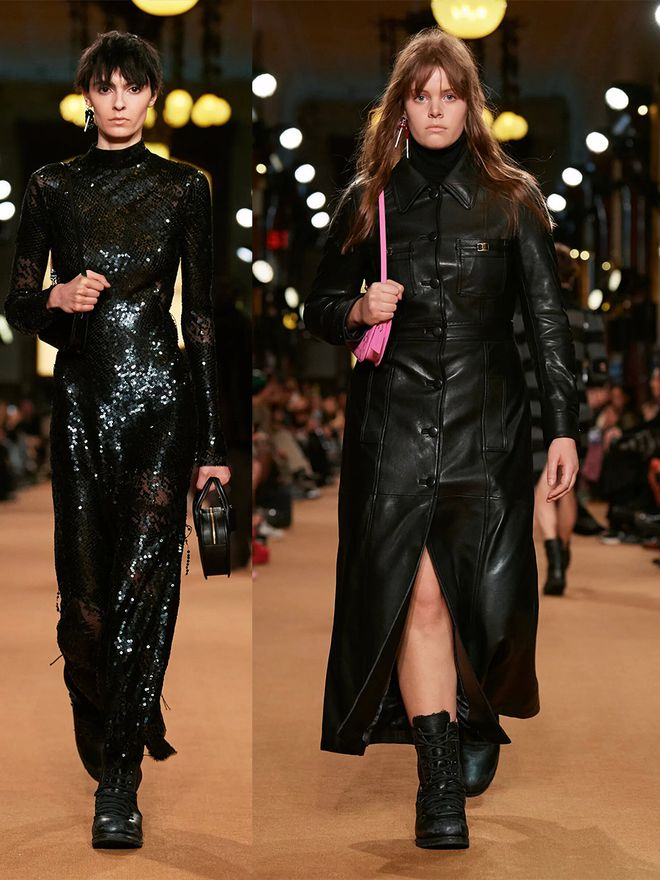 Glossy Wear
Smooth fabrics give these black outfits a lot more of a glossy texture as well, and these glossy outfits also incorporate slimming silhouettes, high necklines, and more to give a more designer look on the outfits.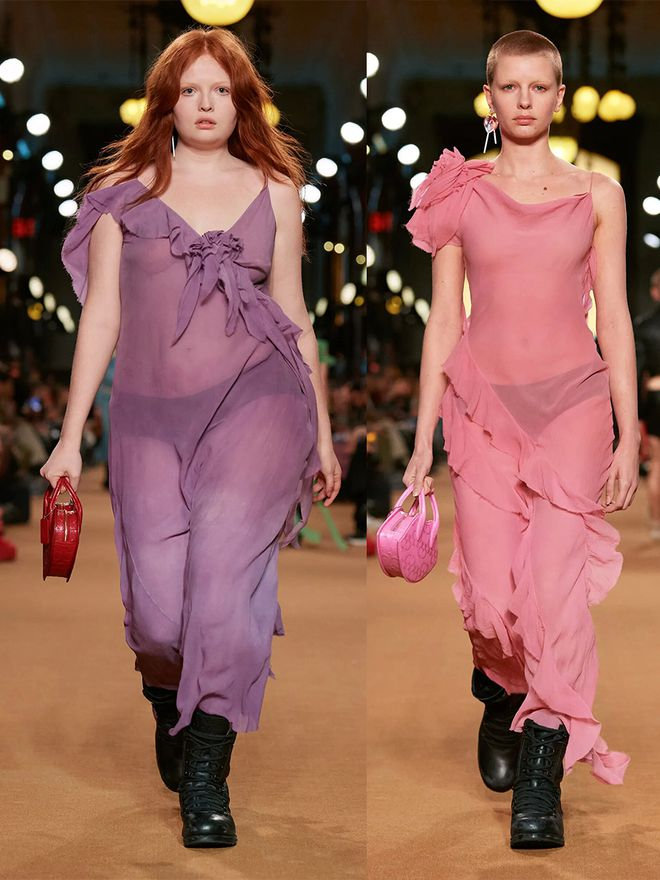 Asymmetrical tulle skirt suit
Lightweight fabrics are in these dress styles, and among the lightness and thinness, there's an asymmetrical design that gives the shoulder sleeves a little extra punch.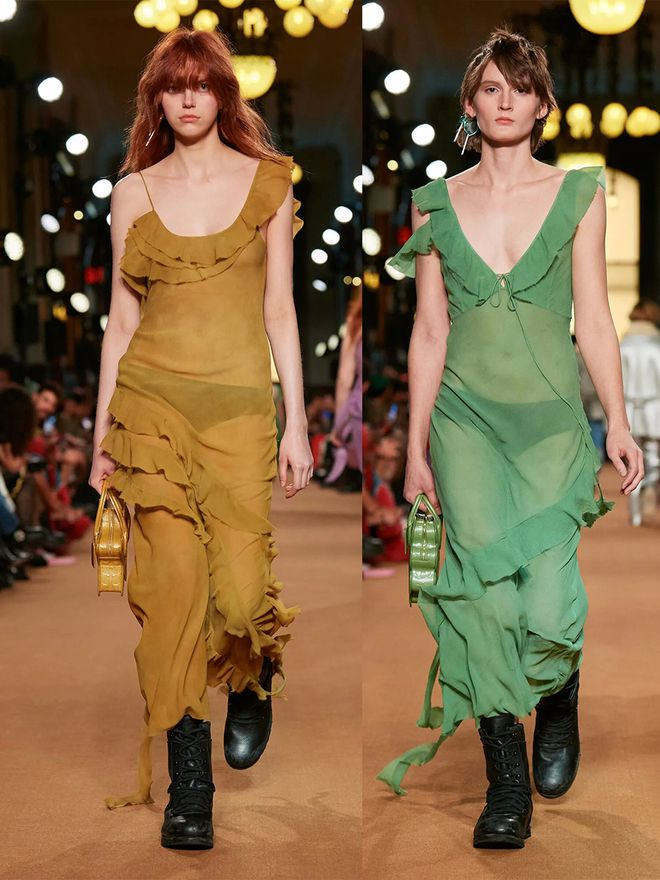 Ruffled Tulle Dress
The tulle dress is a simple and elegant dress in solid colors with ruffles in the same color and fabric for a stacked patchwork that adds eye-catching highlights and more design.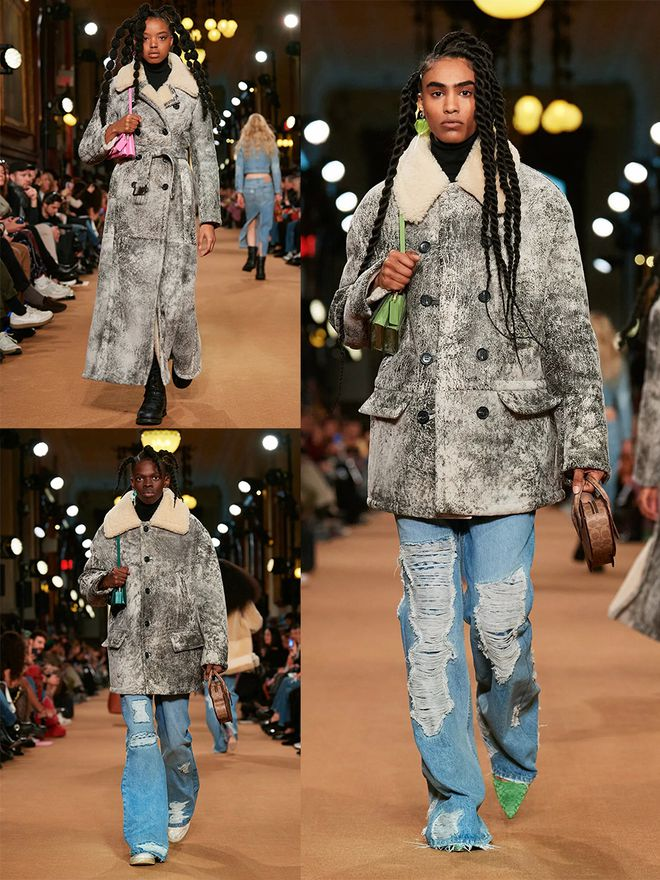 Gray Floral Pattern
Gray color as the main color of these garments, in the low tone of the color, a variety of different colors, and some worn, gradient and other designs to make the sense of atmosphere.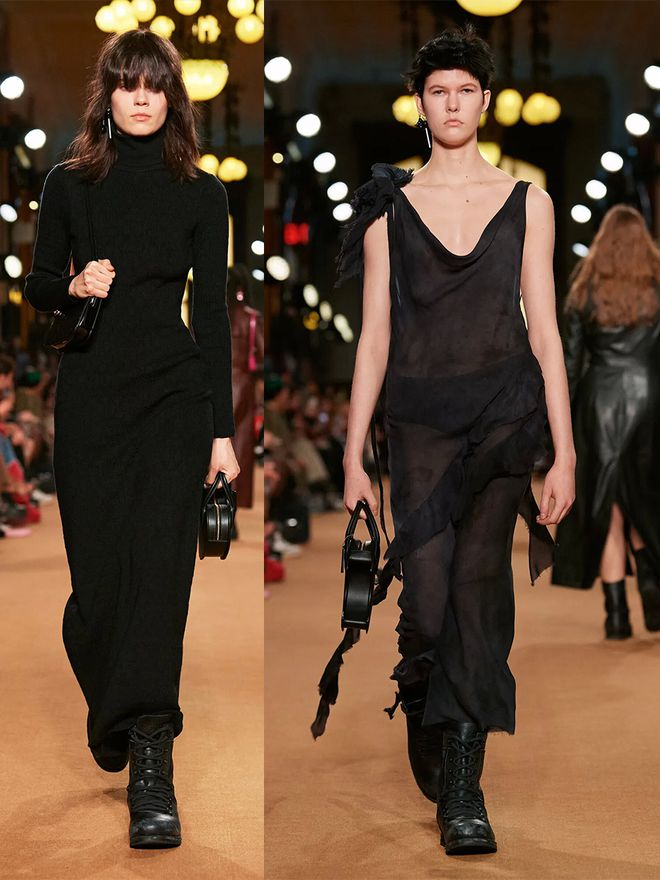 Black dress
The black skirt is simple and generous, the dark color has some light-absorbing effect, and it feels like autumn and winter with a bit of warmth.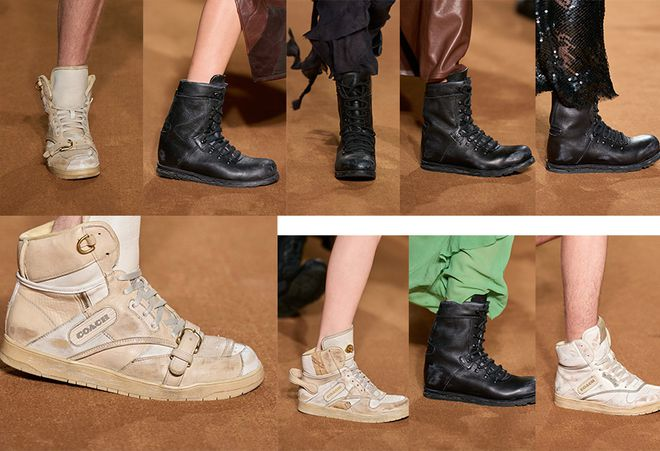 Casual Shoes
Casual elements of shoes in the combination of flats, splicing, thigh-high and other such, but also more casual comfort and fashion sense.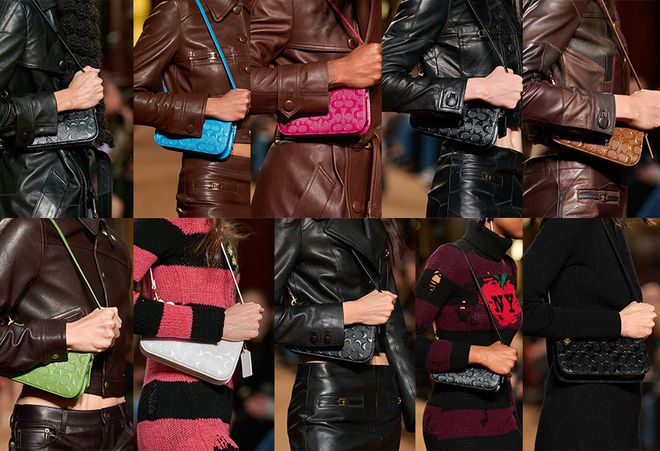 Textured Satchel
Simple satchel style in solid color simplicity, with the appearance of simple floral pattern, texture texture and other contrasts make the pattern show more distinctive simplicity.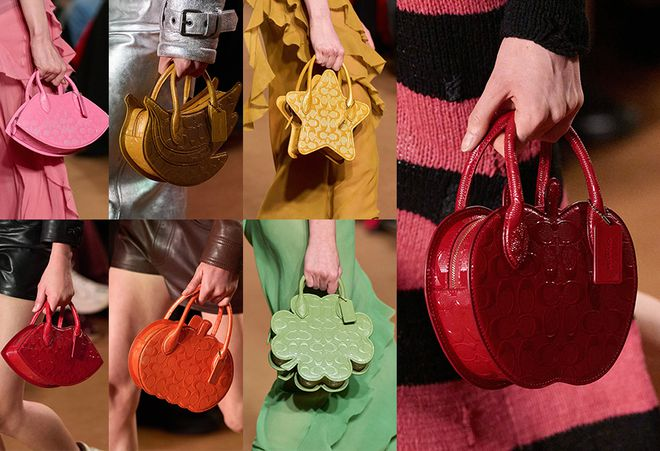 Specialty Styled Bags
If you like the feeling of maverick, how about the choice of bags, but also choose some characteristics of the shape, such as these apples, lips, four-leaf clover, five-pointed star, etc. These shapes of the bag more than a little fun.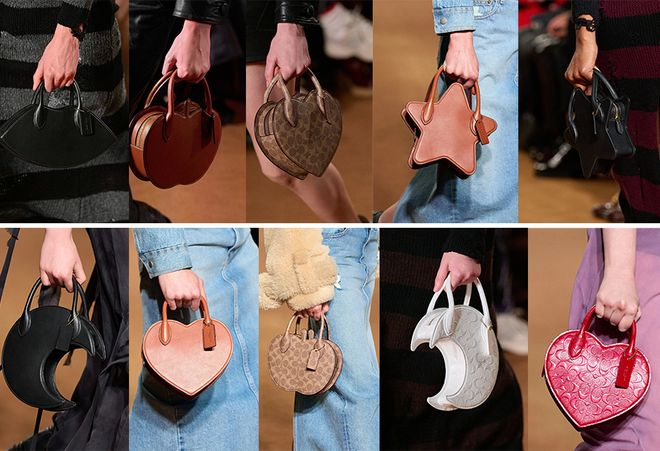 Modeling Bag
There are also some moon, heart-shaped bags in colors such as bright red, matchy-matchy black and white, and Merad, all of which can be harnessed in different styles.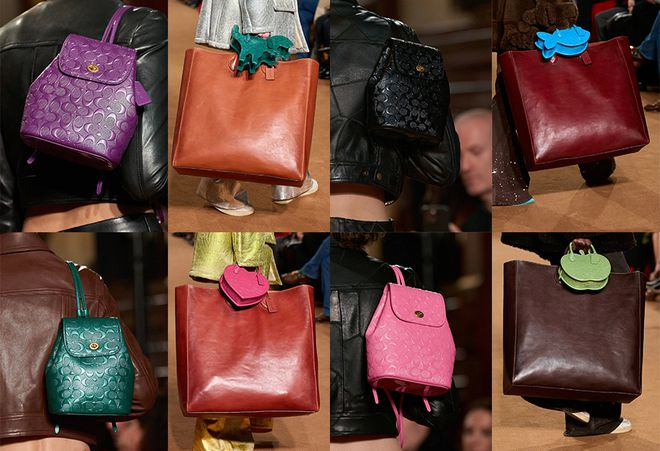 Shoulder bags and large-capacity bags
The shoulder bag is a more minimalist bag with a darker patterned pattern to add some vibrant temperament;
Large-capacity bags are in the match with some small bags, so that small bags as the existence of accessories, stacking design also has more fashion sense.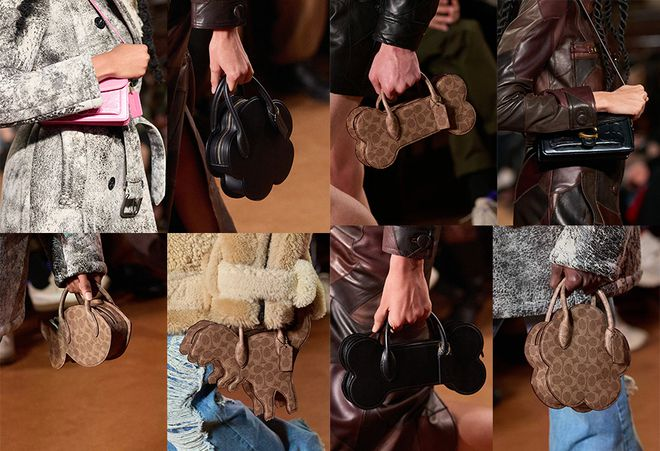 Designer Bags
In the brown color of the bag, these bones and other shapes add to the fun.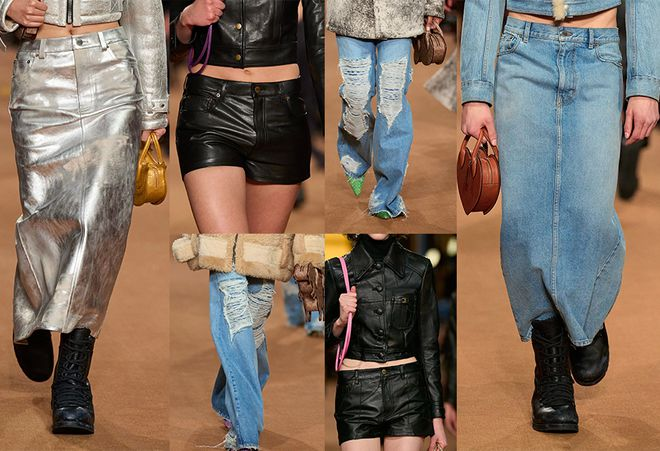 Skirts and pants
Some straight skirt, shorts, jeans and other lower body wear, will add more fashionable temperament for the fall and winter.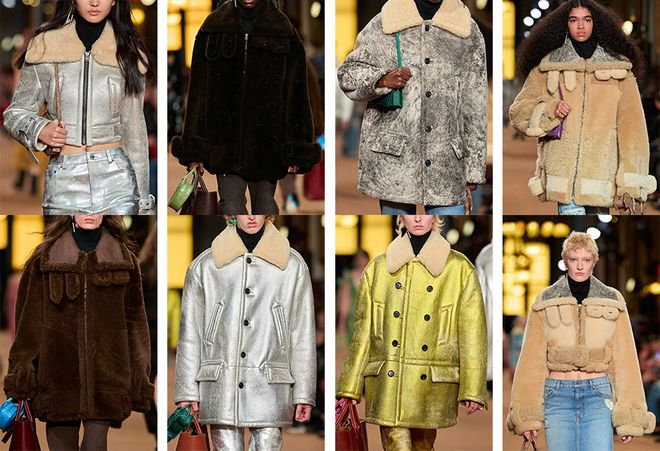 Textured Blouse
The top can add some plush material, fluffy and thick in, warmer.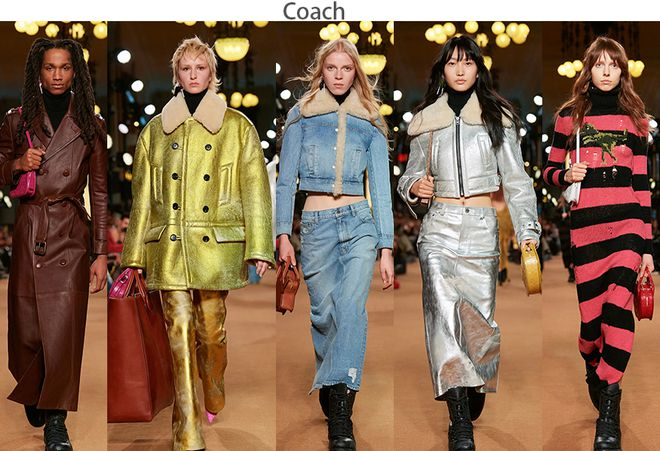 Coach 2023 fall and winter collection, in these garments, there are knitted fabrics, smooth leather, classic denim, plush fur and so on these material fabrics appear, clothing texture and pattern matching, there are some suit-style wear, pulling up the top, revealing a small waist, so that the suit is more classic and fashionable temperament.