Big brand entry section small wallet review, GUCCI, BV is too classic, LOEWE, Chloé girl heart must receive

Although many people now do not go out without a wallet, a cell phone can take care of all. But for girls, this exquisite and lovely small bag, can hold the usual bank cards, bills, small keys and so on, the practicality is still very high. And compared to the tens of thousands of big brand handbags, such mini models, not only the price is much lower, and spend a little thought, but also as a styling accessory, can be said to be a double whammy.
However, some girls may not know much about these small wallets, but to run frequently to the counter to try and not too good, today the blogger collected the more popular big name introductory small wallet, quickly together to find the most suitable for their own destiny style it!
GUCCI Matelassé quilted card case
GUCCI's Matelassé series will launch new models every season, and this season's card case is not only printed and embossed like before, but quilted and embossed in soft leather by way of stitching, a very small design ingenuity. This card case also has the iconic GG logo in the center, no matter the texture or feel is very good.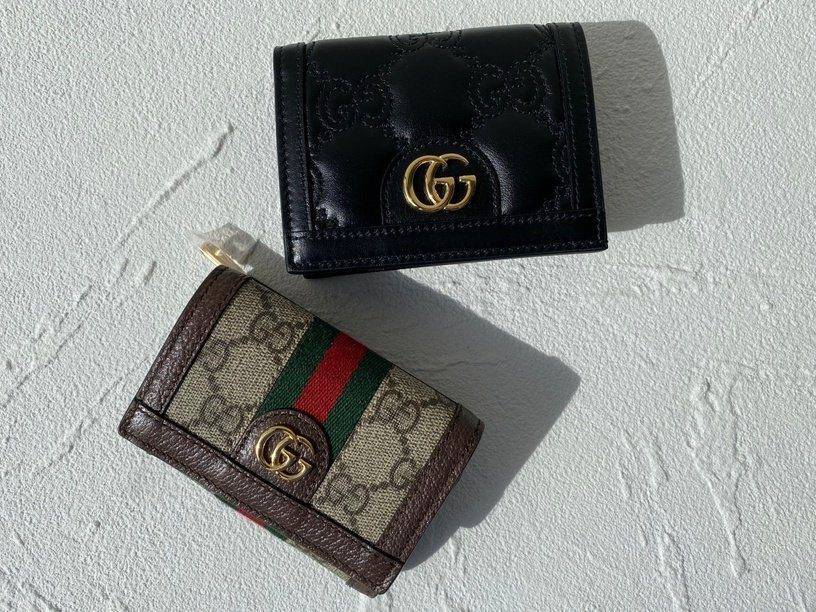 The wallet is just the size of your hand, and the folded design is slightly thicker but actually very lightweight. When opened, there are five card compartments, a bill compartment and a zipper pocket. These two years "small waste bag" when the prevalence of the need for such small and practical card bag to concave shape.
GUCCI Ophidia card bag
GUCCI can not miss is of course the brand's most recognizable old flower models, the following Ophidia card case collection of the most representative GG logo, green, red and green webbing and old flower canvas, with brown leather trim, to the classic combination of time-honored tribute to the GUCCI tradition, and canvas material is very durable, a card case with several years are not a problem.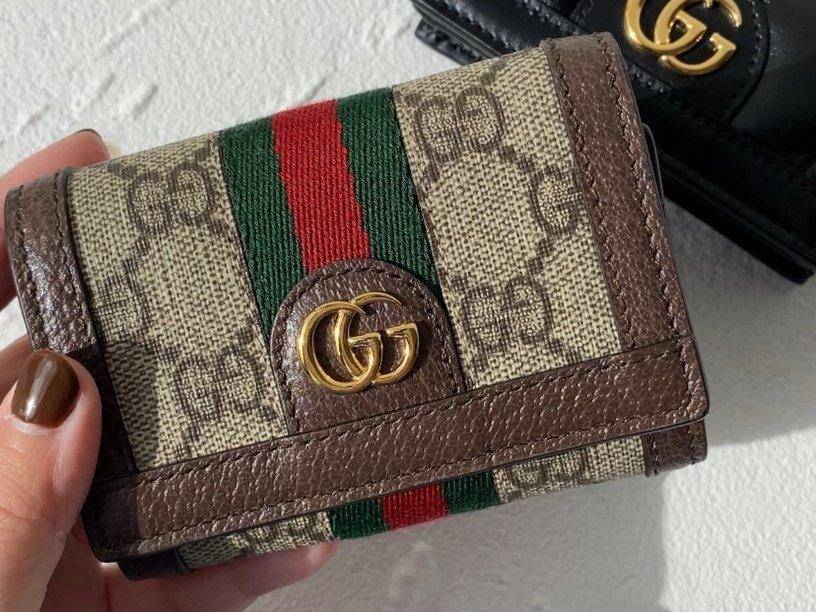 Ophidia card case front is a tri-fold design, open a bill compartment, two card compartments, the back of the wallet is a zipper pocket, make three-dimensional side design, can also be completely open, the daily invoices receipts what can be completely collected in, quite practical!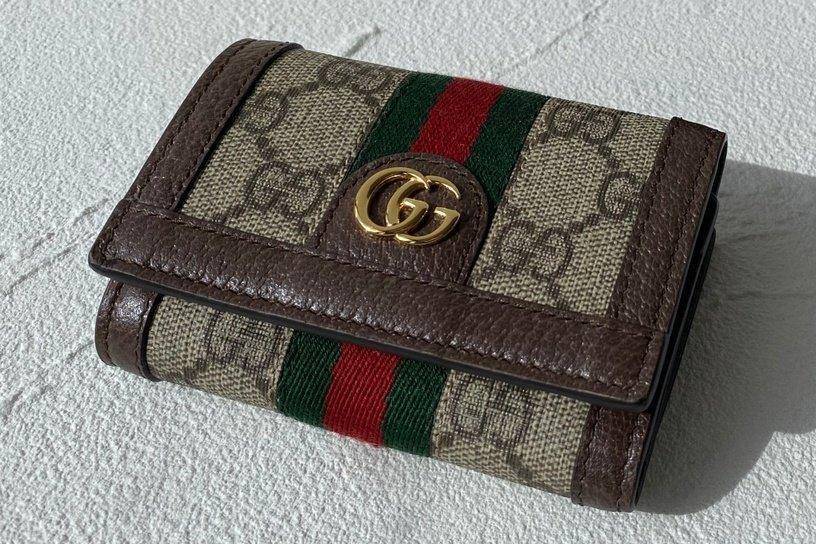 BOTTEGA VENETA tri-fold zipper wallet
BOTTEGA VENETA's woven leather style is very recognizable, and in recent years the woven pattern has been enlarged to a more simple and durable design! This wallet is also available in a variety of different colors, with a woven pattern with lambskin leather, the feel is the most soft and delicate of the small wallets in this review.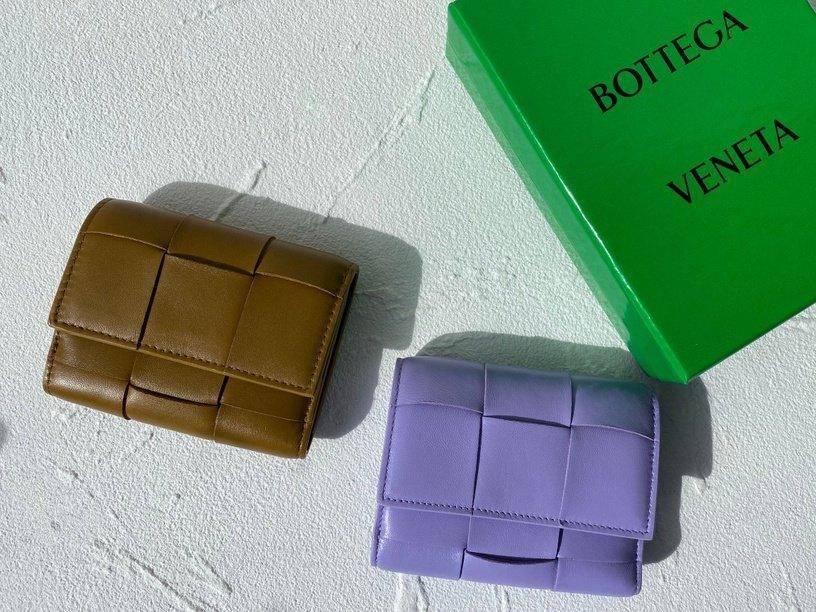 This wallet is a tri-fold design, with a very large bill compartment, in addition to six card compartments, two additional pockets and zipper pockets, although the appearance of a sense of weight, but the storage space is relatively self-buying, from the inside to the outside not only beautiful style, but also both practicality.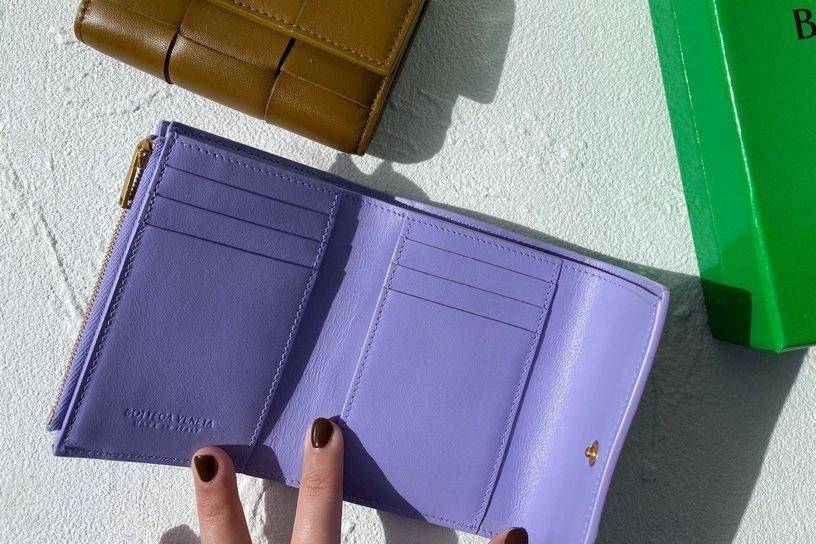 Chloé Malou small wallet
Chloé, which has been a big hit in recent years, has launched several "explosive" models this year. The most unusual design of this small Malou wallet is the knot on the front and the wooden round stamp with a detailed Chloé logo engraved on it. The other is a small round metal, really a small wallet full of details ingenuity! And don't worry about the knot design to open and close the wallet will not be very troublesome, the pressure buckle closure design is very practical!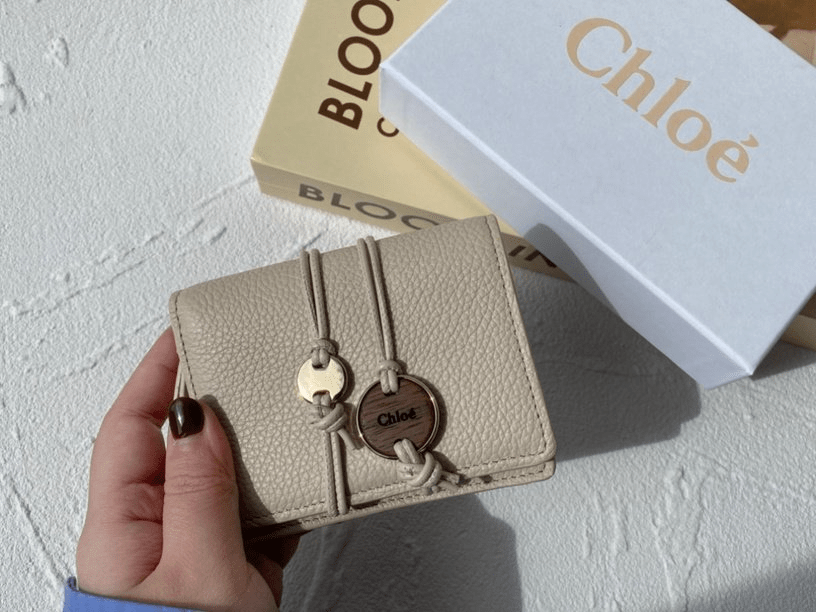 Chloé's Malou wallet is made of a bit of lychee leather, which is soft and durable, and has five card slots, a bill slot, and a zippered coin pocket. There is also an open card compartment behind the entire wallet, which is very convenient for putting some access cards and bank cards.
MIU MIU Matelassé nappa soft leather short wallet
This small wallet to the brand's classic Matelassé leather-based, meticulous calfskin plus complex processes to make three-dimensional wave pattern, feel very delicate, soft and textured, with the center of the MIU MIU metal logo, there is really a sense of understated luxury.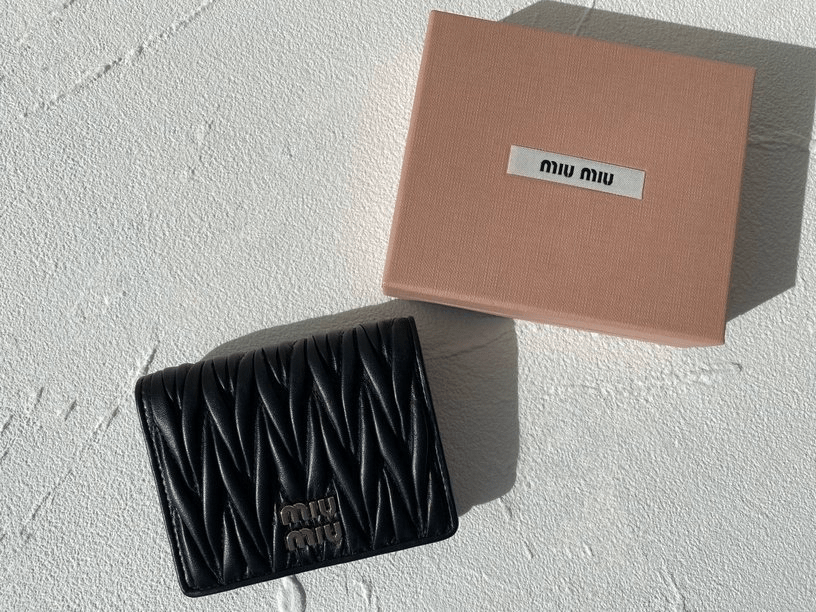 The Matelassé wallet is mainly designed as a folio. When opened, the inside of the wallet has three card slots, a bill slot and two inside pockets, plus a coin pocket with a concealed clasp.
Prada Saffiano leather short purse
Prada's most classic Saffiano wallet in beautiful nude cross-grain leather is hard-wearing and scratch-resistant. The simple shape with the triangular porcelain logo in the center shows the different dimensions of the design details. The back of this short wallet is a bi-fold design with a concealed clasp that opens to a total of nine card compartments and one ID and bill compartment, which is perfectly adequate for the "card rich". The front is a separate zippered coin compartment, and a divider to take in change and invoices and receipts at the same time, so you can rest assured of the capacity.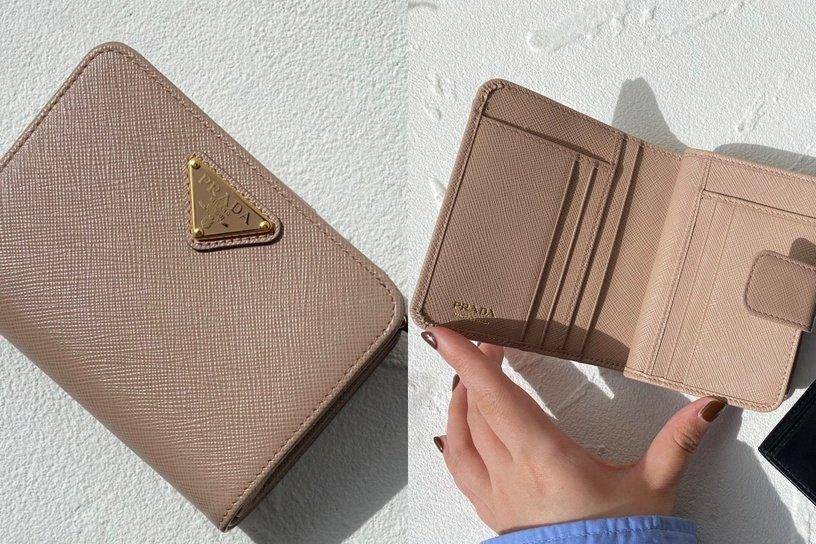 Prada Saffiano
Also from Prada's Saffiano collection, this wallet is relatively lighter. The black criss-cross leather is durable and sturdy, and can be used by men as well. The triangle-shaped porcelain logo is placed above the leather clasp, which is a nice little detail with the soft leather. This wallet has a bill compartment, three card slots and two inside pockets when the leather clasp is opened, and the coin pocket is designed as an envelope flap. Although the storage space is not as rich as the other one, but overall more compact, if you do not like to carry a large bag or not much sundries, this is more convenient to put in the bag.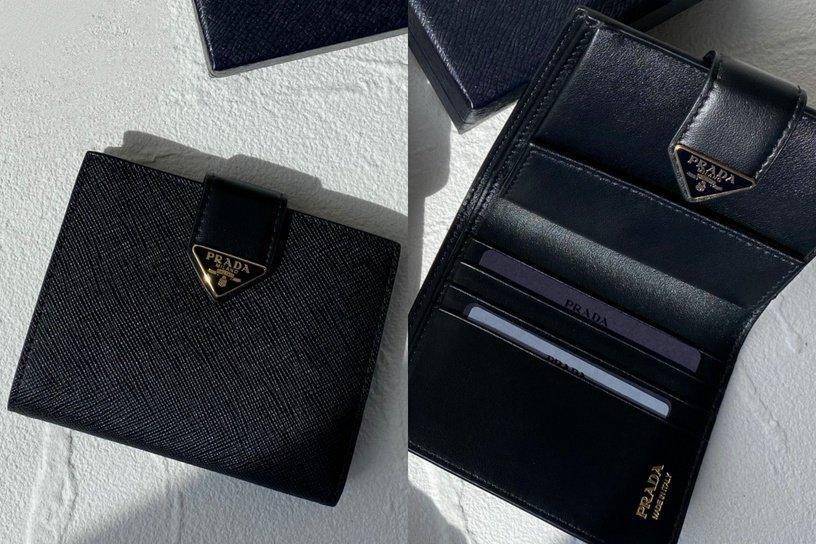 LOEWE grained calf leather wallet
The material is mainly grained lychee grain calfskin, which is very soft to the touch and durable at the same time, and the color-blocking belt-type concealed buckle design is very practical, with LOEWE's classic Anagram three-dimensional embossing on top, showing the low-key exquisite details.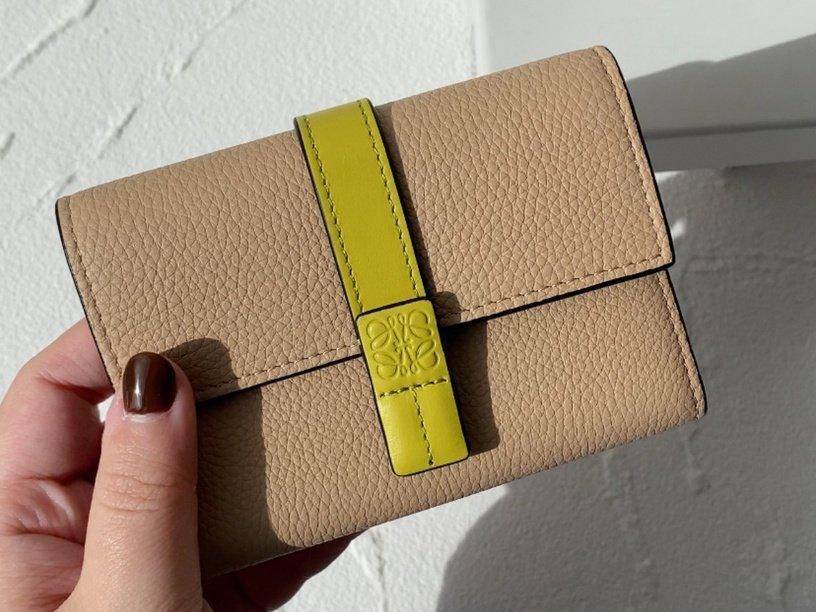 This wallet is large in size but thin overall, tri-fold design has six card compartments, two small compartments and a bill compartment after opening, there is also a zipper pocket on the side, and the lining is also with the collision color leather, the beauty of 100 points.